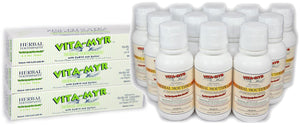 Vitamyr Family Package 12-8 Oz Mouthwash & 3 – 5.4 Oz Toothpaste
Regular price $133.20 $106.56 Sale
or
Introducing the ultimate solution for a healthy and fresh mouth - the Vitamyr Family Package with 12-8 Oz Mouthwash & 3 – 5.4 Oz Toothpaste! Say goodbye to gingivitis, sore or sensitive gums, bad breath, and canker sores with this all, effective, and great-tasting product.
The Vita-Myr Mouthwash is a unique blend of natural ingredients, including Zinc and Folic Acid, which gently assist your body's natural immune system. The ancient powers of Clove and Myrrh work together to purify and soothe your mouth, providing you with long-lasting freshness. Unlike other mouthwashes, our product contains no alcohol, sugars, artificial sweeteners, or preservatives, making it a perfect choice for those with sensitive teeth or gums.
The VITA-MYR Zinc-Plus XTRA Toothpaste is an excellent addition to your oral care routine. With Xylitol and Co Q 10, this natural and safe toothpaste effectively whitens teeth, removes plaque, and freshens breath. It aids in healing bleeding gums, gum disease, and prevents periodontal disease, making it an ideal choice for those who want to maintain healthy gums and teeth. We've blended Zinc, Folic Acid, Myrrh, Clove, Xylitol, and Co Q 10 into a pleasant-tasting toothpaste, ensuring that you enjoy using it every day.
Invest in your oral health with the Vitamyr Toothpaste Package. With our effective and natural products, you'll experience great results and a healthy mouth and gums. So, what are you waiting for? Try it today and feel the difference!
"Vita-Myr, Natural Products for Healthy Living"