Say goodbye to gingivitis, sore or sensitive gums, bad breath, and canker sores with Vita-Myr Mouthwash.
Our mouthwash is specially formulated with Zinc and Folic Acid to gently assist your body's natural immune system, while the ancient powers of Clove and Myrrh purify and soothe your mouth. And the best part? Our mouthwash is alcohol-free and free from sugars, artificial sweeteners, and preservatives. Plus, it has a great taste that your family will love! Our Zinc-Plus XTRA Toothpaste with Xylitol and Co Q 10 is the perfect complement to our mouthwash. This natural and safe toothpaste effectively whitens teeth, removes plaque, freshens breath, and aids in healing bleeding gums, gum disease, and preventing periodontal disease. With our unique blend of Zinc, Folic Acid, Myrrh, Clove, Xylitol, and Co Q 10, your family can enjoy the benefits of a powerful combination of natural ingredients in a pleasant tasting toothpaste.
Shop Now!
What people are saying
I just discovered your toothpaste recently. Not only does it clean great, but it freshens my breath too. The greatest benefit I found is that it heals up the sores I get around my tongue from biting it all the time. It did not take any time at all to heal them up. Amazing.

Nancy J Smith
Your mouthwash is the best thing I've ever used. I swear that the zinc and vitamin c prevent me from ever getting sick. Love the clove taste! Plus, I never get cavities anymore.

Sharon Cedrone
Best shampoo I've ever used. My hair is shiny, feels great, dries fine with or without a blow dry, and I can get away with going a 2nd day without a shower as my hair is significantly less greasy now. Will recommend to everyone!

Falon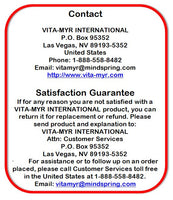 Safeguard Your Smile Naturally with Vita-Myr: Made in the USA, Safe, and Effective
Safe and Effective: Vita-Myr Mouthwash & Toothpaste is formulated with natural ingredients, free from harsh chemicals, sulfates, and artificial additives. You can trust its gentle yet powerful formulation to protect and enhance your oral health naturally.

Made in the USA: We take pride in our product being made in the USA. With Vita-Myr, you not only experience the benefits of a high-quality oral care solution, but you also support local manufacturing and uphold strict quality control standards.