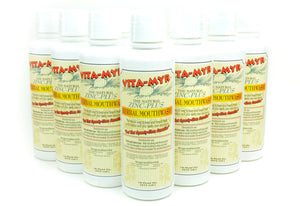 Vita-Myr Family Package - 12 Pack of 16 Oz Vita-Myr Natural Mouthwash!
Regular price $208.80 $167.04 Sale
or
Introducing the Vita-Myr Natural Mouthwash Family Package - the ultimate solution for healthy mouth and gums!

Our formula contains Zinc and Folic Acid, which work together to gently boost your body's natural immune system. Additionally, the ancient powers of Clove and Myrrh help to purify and soothe your mouth, leaving you with a refreshing and clean sensation.

What sets our product apart is what we don't include. Our mouthwash is completely free of sugars, artificial sweeteners, and preservatives, ensuring that you only get the best natural ingredients in every bottle. Plus, the great taste makes it easy to incorporate into your daily oral care routine.

The Vita-Myr Family Package comes with 12 bottles of our 16 Oz natural mouthwash, providing you with long-lasting and effective results. Join the countless satisfied customers who have made Vita-Myr their go-to choice for a healthy mouth and gums. Try it out for yourself today at www.VitaMyr.com!






"Vita-Myr, Natural Products for Healthy Living"