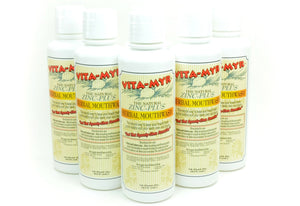 6 Pack VITA-MYR 16 Ounce Herbal Mouthwash
Regular price $104.40 $83.52 Sale
or
Refreshing Herbal Formula for Complete Oral Hygiene. Sugar-Free, Alcohol-Free, Saccharin-Free, Made in USA. 
Benefits: 
Complete Oral Hygiene: Fights bad breath, reduces plaque, supports healthy gums.

Refreshing Herbal Blend: Invigorating sensation with natural herbal extracts.

Sugar-Free and Alcohol-Free: Safe and enjoyable oral care without harmful additives.

Saccharin-Free: No artificial sweeteners for a healthier mouth.

Made in the USA: Trusted quality, adhering to rigorous standards.
Elevate your oral care routine with the 6 Pack VITA-MYR 16 Ounce Effective Herbal Mouthwash. This invigorating mouthwash combines the power of herbal extracts and zinc to provide a refreshing and effective solution for complete oral hygiene. With its sugar-free, alcohol-free, and saccharin-free formula, this mouthwash offers a safe and natural alternative to conventional mouthwashes. Each pack contains six 16-ounce bottles, ensuring a long-lasting supply for maintaining optimal oral health. Experience the benefits of a herbal-infused mouthwash and enjoy a healthier, fresher mouth with VITA-MYR Herbal Mouthwash