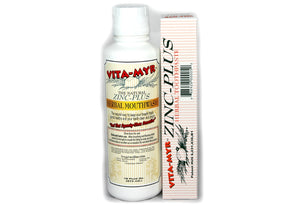 Vita-Myr Package # 1 - 1 of each - 16 Oz Mouthwash & 4 Oz Toothpaste!
Regular price $26.90 $24.21 Sale
or
I

ntroducing Vita-Myr Package #1, the perfect duo for achieving a healthy mouth and gums! If you're suffering from gingivitis, sore or sensitive gums, bad breath, or canker sores, look no further than Vita-Myr.




Our all-natural Mouthwash contains the powerful combination of Zinc and Folic Acid to gently assist your body's natural immune system, while Clove and Myrrh work to purify and soothe. With no alcohol, sugars, artificial sweeteners, or preservatives, our mouthwash has a great taste and delivers effective results.
Pair our Mouthwash with our Original Toothpaste, which is also made with Zinc, Folic Acid, Clove, and Myrrh, for a complete oral hygiene solution. Our toothpaste is natural and free from harmful chemicals, making it perfect for the whole family to use.
Choose Vita-Myr, Natural Products for Healthy Living, and experience the difference in your family's oral hygiene. Say goodbye to oral health issues and hello to a healthier, happier smile with Vita-Myr Package #1!
Save 10% When bundled with your favorites!